Our Saviour
The rocky terrain slowly disappeared and soft earth took its place. Not much, but enough to support life. The damage from the past had not reached here, perhaps due to the arc of mountains that formed about it. Whatever it was, the wilderness was behind and prospects were ahead: supplies, communities, information.
Straker stopped and looked about him, wary of threats, also looking for life. He wasn't sure what type of being he would come across, but he was confident in himself; there wasn't anything he couldn't evade, outsmart or overcome. Even so, he took his automatic rifle from his shoulder and checked it over. Hardly his weapon of choice, old and troublesome, but he had carried out enough repairs on it to know it would do its job. He checked his ammunition in his backpack as well; three more magazines, plus only two grenades - he would have to try to get more if possible. He had a long knife strapped to a thigh and a small one tucked in a boot, plus he could kill with his hands, yet some problems needed an explosion to solve.
He continued his purposeful stride. Tall, muscular, but not bulky; he was a sculpted figure on the landscape. His hands were rough and his face was grim. His green eyes flicked about as he walked. He hoped he met humans or mutants here; he could pass for either, although in time the former would probably detect his superior abilities. Even so, as long as he was brief and careful, he could get what he needed and be gone before suspicion arose. As for mutants, they would revere him or possibly hate him on sight; some were jealous of perfection.
Sounds came to his sharp ears and he dropped, smoothly and suddenly, lying on the grass with his rifle ready. Then beings appeared, not too far away, climbing out of the ground, looking up and around before hurrying in one direction. Straker stayed still, watching, as over twenty figures stopped at a patch of upturned earth and rooted through it. Straker had already noticed a number of such patches about the area. There were also trees and bushes. Some individuals broke off to a nearby cluster where sacks were being filled. It was clear what was happening, but the sense of urgency was mysterious.
Then there was panic as the group heard a whirling noise. Straker had already heard it and seen the dots in the sky when they could not, but they seemed to know what these were and ran for their safety. The fleers were of all shapes and sizes, several moved awkwardly; Straker knew they were mutants and so rose.
"Quick, get in," he urged, running for the hole in the ground himself, using the situation to gain entrance. They reeled in surprise but never stopped running. He aimed his weapon skyward. "I'll cover you, hurry up." The flying objects were closing in. Straker had never seen the like, but the mutants had and fled underground, the last closing the hatch, disguising the way.
"Who are you?" someone asked Straker, who had slipped in with the last few, not giving them a chance to shut him out. "Are you a human?"
"No, he's a super-soldier," another, a middle-aged woman, replied for him.
"How do you know that?" asked Straker calmly.
"You look too good to be human."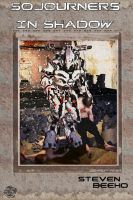 Buy Now @ Amazon & Smashwords
Genre – Post- Apocalypse Sci-Fi
Rating – PG13
More details about the author & the book